No Comments
2017 Avalanche Airbag Review Buyers Guide
by Darla Biggins | Avalanche Airbag Review
Avalanche Airbags are everywhere. And they should be. It warms the cockles of my heart to see just about every snowmobiler in the backcountry wearing a pack like it's as standard issue as a transceiver, probe and shovel. But the field of packs is diversifying – there's lots of brands and technologies out there now and Mountain Sledder wants to make it easy for you to pick the right pack for you. We take an in-depth in our Avalanche Airbag Review and look at 6 products and line up the same, following crucial criteria.
Price
I'm made of money, but you might not be. Let's have a look at how much this is going to cost you.
Deployment
I'm going to deploy the pack. Then I'm going to try and figure out how to repack and recharge it after. Because I'm an act-first, figure-shit-out later kinda person.
Volume
To be honest, most of my gear goes in my tunnel pack. The pack is just for essentials. I know there's some hard-cores out there with everything from Epi-Pens to flares in their packs and I respect that, but most of my gear goes on my sled, not my back.  Here, we'll put my essentials in the pack (shovel, probe, extra gloves, extra goggles, first aid kit, InReach and package of Obero jerky) and see how well it fits. Then I'm going to see how many cans of Monsters I can fit in.
Pockets
Is there anything unusual about the pocket set up?  Anything particularly smart? Is there an avalanche gear pocket or extra-large zipper pulls?
Fit
I've got a small lady (5'4", 120 lbs) and a large dude (6', 200 lbs) and I'm going to have each of them try it on and tell me what they think.
Airbag Shape
There seems to be a few different shapes of airbags. I'm going to deploy each one and roll down a mountain side and see how I fare. Just kidding. I'm going to read the websites and use common sense.
Highlights of the pack
There's greatness in everything – let's look at the best each pack as to offer.
Potential Challenges with the pack
Even powder days have hidden stumps. Let's look at potential issues with each pack.
Service
What kind of service can I get for my pack? To find the answer to "What kind of yearly service should I perform on my pack," I'm going to look at each website for the information and call each company and see what I get.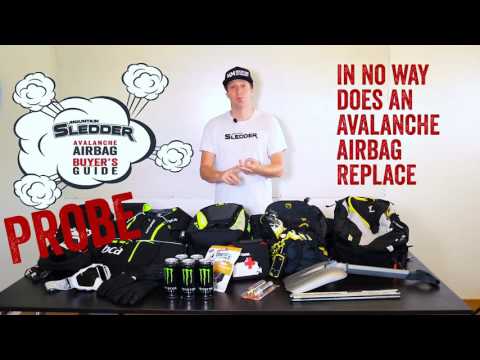 ---
MOTORFIST ARGO
Price – $1000 cdn $70 for refill canisters.
Deployment – Uses two small compressed gas canisters. Liked that their screw in heads were different sizes – it's hard to screw up!
Volume – 22 l
Claimed Weight – 6.5 lbs
Actual Weight – 6.44 lbs
Pockets – Awesome goggle pocket and tool pocket on front, zipped off internal compartment, sleeves for avi gear and one main stow.
Fit – Great for bigger builds.
Airbag Shape – Pillow
Highlights – Love the goggle pocket and the simple design is nicely thought out. Dig the back-access zipper.
Challenges – Refill can be pricey and a challenge to find cylinders if you don't live near a dealership – stock up! We screwed up on our first "test-pull" and wasted a set of cylinders – read the instructions and don't be like us!
Service – I called Motorfist.  Got a real person right away who said yearly maintenance wasn't required as the canisters were sealed, but that I could dry-fire the pack as often as I wanted.  Also let me know how durable the pack was and how the system had been in use by Scott and was a tested system. Sweet!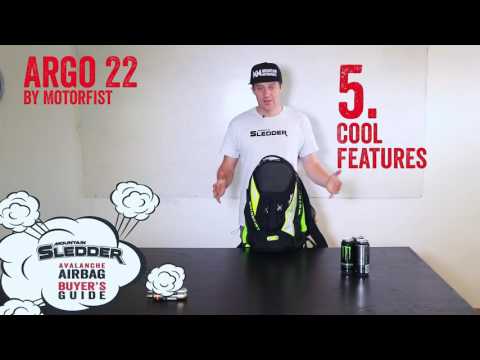 ---
ABS VARIO
Price – $1085 cdn $50 per swap on new cylinder.
Deployment – One connection from cylinder to pack with a compressed nitrogen cylinder. You'll replace the handle each deployment as well.
Volume – 22 l
Claimed Weight – 5.32 lbs
Actual Weight – 6.3 lbs
Pockets – One main pocket for the goods, which holds the majority of the bulk. There's an option for exterior shovel blade, handle and probe carry, but it was hard to trust the elastics to secure in the gear and even harder to get them to fit around our shovel.There are a couple of extra pockets for keys, inReach, goggles, etc., but nothing padded, so keep those goggles inside.
Fit – Available in S/M and L/XL.
Airbag Shape – Wings
Highlights – This is the only pack that comes in 2 sizes, so the fit seems a bit truer if you're on the larger or smaller side of life.  If you're someone who brings anything more than the necessities, the volume is nice.
Challenges – Refilling is a pain and can be expensive. Information about how/where to do it is lacking on the website and in the end, our price to get it done was about $50 and 1-2 weeks to ship it off. The pack doesn't come with a right-side-trigger ($25 extra).
Service – Probably the easiest information of all brands to find.  The website has an easy 6-step yearly maintenance check to do.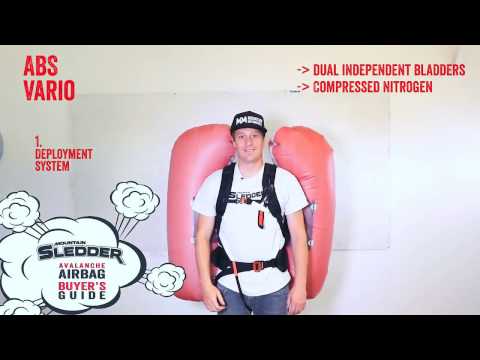 ---
PIEPS JETFORCE RIDER
Price – $1869 cdn
Deployment – Battery operated fan. 4 deployments per charge.  Author's advice: read the manual!  Know your gear! Rather than "always ready," you need to be charged and have a green light on.
Volume – 10 l, 0 Monsters
Claimed Weight – 7.28 lbs
Actual Weight – 7.36 lbs
Pockets – Front main stow with sleeves for avi gear plus back-access to main stow.
Fit – Best for small and medium builds
Airbag Shape – Pillow
Highlights – Obviously being self-sufficient with your airbag is nice.  We love the idea of not being at the mercy of a shop for a refill. Also, once we got rid of all the ski stuff (helmet carry, mostly), the pack is super streamlined and simple.
Challenges – There's not a lot of room in the pack. For such a low-volume pack, we'd expect it to be a bit smaller and lighter. Also, handle is on the left-side – not ideal for sledders.
Service – I downloaded the manual but at 114 pages long, I wasn't eager to start digging. Once I did, there was some good info. I called Black Diamond and they gave me some good advice about ensuring that the pack was always off when I was done for the day because draining the battery wasn't ideal for the pack.  They also confirmed for me that my firmware was up-to-date, which was appreciated!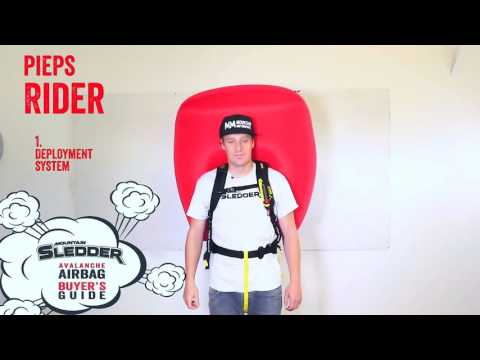 ---
HIGHMARK RIDGE 3.0
Price – $989 cdn $10-30 to refill canisters.
Deployment – Kind of a no-brainer.  Check to see if cylinder is full (3000 psi), screw in, go.
Volume – 18 l
Claimed Weight – 5.5 lbs
Actual Weight – 5.82 lbs
Pockets – One main stow for all our gear and an internal sleeve for a probe.  Shovel blade and handle go on the outside, which is always helpful.
Fit – Performance fit.  Ideal for medium-sized men and for women.
Airbag Shape – Pillow
Highlights – It's light.  It's minimal. It's beyond easy to repack and reset. If you're not carrying the kitchen sink, this is your pack.
Challenges – You still need to go into a shop to get it refilled.  Not ideal for huge guys.
Service – The link on the Highmark website took me to the Mammut website, where I assume the information used to be.  I called the phone number on the Highmark website and got a person who was able to verbally tell me that every season I should fire it off, check the connections and zippers.  Also they reminded me that I should check the pressure every time I go out, which I do, because my mama raised me right.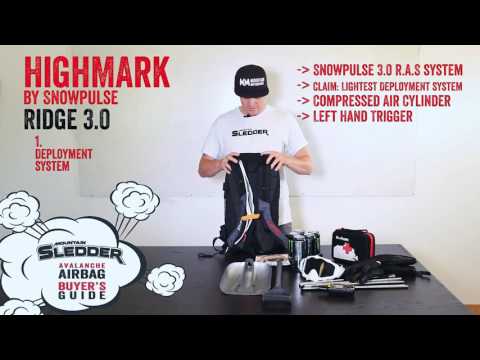 ---
HIGHMARK SPIRE LT VEST 3.0
Price – $1299 cdn $10-30 to refill canisters.
Deployment – Same as RIDGE 3.0
Volume – 15 l, 0 Monsters.
Claimed Weight – 6.65 lbs
Actual Weight – did not have production model.
Pockets – Exterior shovel blade and handle pocket, three flat front pockets for valuables and one main stow.
Fit – Best for those 5'8″ and taller
Airbag Shape – Wrap-Around
Highlights – Highmark let us know that like all its P.A.S. Airbags (re: the wrap-around type), about 50% of the airbag is stored in the shoulders and straps, which means more volume available in the pack.  Makes sense. The light material is awesome and will hopefully prove tough – we're ready for a vest that doesn't make us overheat. Finally – the bottom line is safety.  If the stats are true, this pack provides the most amount of protection, and we'll put that at the top of our lists anyday.
Challenges – Same as RIDGE 3.0.  It also fits pretty tall, so it's not ideal for women or really short guys.
Service – Same as RIDGE 3.0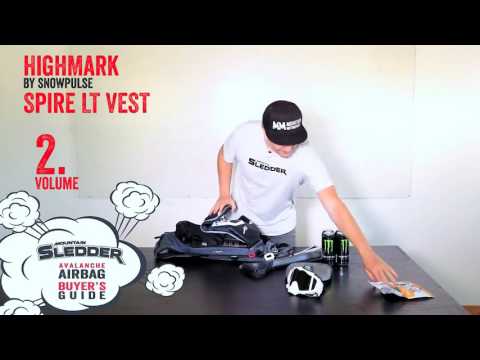 ---
BCA MTN PRO VEST
Price – $1039 cdn $10-30 for refill canisters.
Deployment – Cylinder requires 3 connections and a safety hook, that seems a bit antiquated, but there's lots of instructions in a lot of places to ensure you don't screw up.
Volume – 12 l – 0 Monsters. We couldn't fit our First Aid Kit in.
Claimed Weight – 7.5 lbs
Actual Weight – 7.58lbs
Pockets – One main stow (that ain't that big), a sleeve for avalanche tools, a valuables pocket and a removeable sleeve for a water bladder. The front has 2 flat pockets for valuables and a transceiver pocket.
Fit – Adjustable for Small to Large frames.
Airbag Shape – Pillow
Highlights – The ability to change sizing on the pack is nice – it's the only vest that allows for that.
Challenges – Despite the mesh liner, it's still pretty hot in there. The tek-vest-like protection is nice, but it's always there, even when you don't need it.  The weight issue is not ideal, either.  Finally, if you carry more than a shovel, probe, gloves and goggles, this may not be the pack for you.
Service – I found the manual for the vest on BCA's website and was able to find some useful information: yearly deployment should occur, your cylinder is only good for 20 deployments and that a pack should last 5 years with proper care.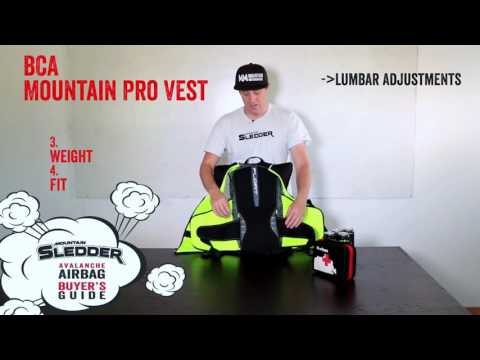 Comments