No Comments
Conditions Report: Coast Jan 4, 2017 | Mountain Sledder
Julie-Ann Chapman | On 04, Jan 2017
Cody McNolty and Jake Warner find some snow not affected by the wind on Jan 1 in Pemberton.
I'm surprised we haven't just all blown away into Never Never Land with these insane winds we've been getting hit with wince the 1st of January. The last dump of snow we got was about a week ago and fresh pockets can be found deep in the trees and in protected areas that haven't been hit by the wind. Pardon my language, but the alpine is completely "wind f**ked". The wind has created some interesting stuff explained in the snowpack description below…
The wind has created a lot of wind loaded slopes which are very touchy to human triggering (if not yet already naturally slid). I would be aware of wind-loaded slopes and hard slab avalanches. Stay away from any unsupported convex roll or slope (they tend to propagate – see video below). With wind brings cornices. I don't suggest hanging under any slopes that have hanging cornices above nor do I suggest dropping off of any cornices.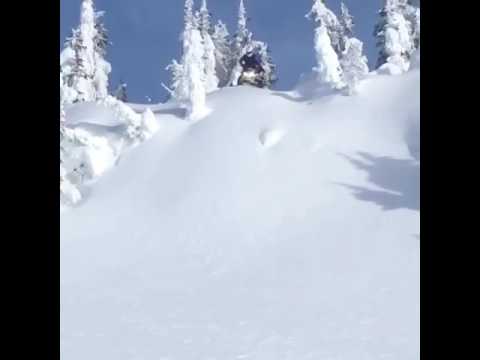 Sometimes when you warm up on a little hit first thing in the morning it allows you to make your decisions for the rest of the day… we decided to stay out of the alpine yesterday and play in the trees after this little face slid on me.
It's extremely wind-affected in the alpine now in the Sea to Sky area and all wind-affected slopes are EXTREMELY touchy. I would stay away from any convex rolls, steep slopes with long run out zones and cornices.
Always make sure to always check the avalanche reports on avalanche.ca before heading out into the backcountry. Please feel free to write your own report of what you have found and observed out there in the Mountain Information Network (MIN) on their page! This is a great tool to read about what's been going on in the backcountry.
Reality check: Good travel snow to explore right now. Be smart when travelling in wind-affected areas
Looks like the arctic flow of coldness is going to 'peace out' by the weekend and bring us another good dump of white goods! Yewwwww!!!! I'll take it! 
Brohm Squamish – Seeing as I do not head to Brohm to ride very often, Brody Fourchalk will be helping me out with the report for this location through out the season. Parking is pretty much at the bottom now. The Black Tusk Club has now started charging for trail fees, help support the club! Grooming is underway.
Brandywine Whistler – People are parking at the bottom. Grooming and trail fee collection is underway. However, it's still creek-y in the bowl!  Those creeks will munch you whole, so watch out! The new road to access Chocolate Bowl is open.
Rutherford Pemberton Ice Cap – The groomer has started to groom to the cabin. The Pemberton Valley Snowmobile Club is now collecting fees.
The moulin (which claimed a life last season) is wide open just past Appa Lake (before gas drop) and is not roped off. It is right in the middle of the path where people travel. The ground dips down quite a bit before the actual hole, but if you are mock-chickening it there will be no stopping before. The Pemberton Ice Cap is like Swiss cheese, there are MANY moulins and crevasses open and are constantly changing, ESPECIALLY this early in the season. If you are a smart backcountry & glacier traveler then you are aware that these holes are expected and are actually everywhere! Always look in front and travel with caution.
The backcountry is a dangerous place and people shouldn't expect for things to be marked off like at resorts. Everyone is responsible for his or her own actions back there. Take a crevasse rescue course, be prepared, ride with people that know the area, etc.
Hurley FSR Pemberton – You are parking at the bottom of the Hurley now. Heads up, a HUGE boulder has slid onto the road at about 34km. Backcounrty Snowcats has marked it off with red fence for safety! Thank you! Heads up as well, their season for cat-skiing has started, so please respect their zone and don't go sledding there.
The Pemberton Valley Snowmobile Club has purchased a groomer to start grooming the Hurley this winter. Please expect someone at the trailhead collecting donations for more frequent grooming to happen. Please support the Pemberton Valley Snowmobile Club. 
Now is a good time buy your local snowmobile club membership! The Pemberton Valley Snowmobile club will be doing weekly draws for everyone signed up for their season's pass membership and is offering a discount for premium gas at AC Gas! Contest ends last week of January. 
— Julie-Ann
Similar Stories
Comments